SUMMARIES EPISODES OF NCIS
Seasons 7 and 8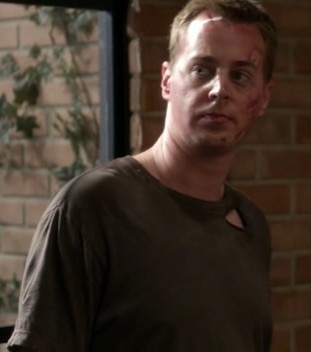 I thank all the persons who give the summaries of the episodes on American and French Web. Lumen.
http://www.team-ncis.com
Season 7 (24 episodes)
2009-2010

This season 7 contains 24 episodes. Shooting begins on July 15, 2009.
Season premiere on air September 22, 2009.
TRUTH OR CONSEQUENCES (no. 139) - Gibbs and the team work on a drug case in the Navy. Two bodies are in the morgue and a Petty Officer is in critical condition. They wouldn't know they take drugs. While the NCIS is investigate, Special Agents DiNozzo and McGee "hear" the future successor to the former liaison officer with the Mossad, Ziva David. The DEA agent Emily Garver and the police officer Heather Pearson will meet Tim and Tony, but will they appeal to those who make the final decision, Gibbs? Ziva has not forgotten, since his return to the Mossad, she is tracked by the NCIS. But 3 weeks after her Aliyah, Ziva seems to have disappeared, but Special Agent Chad Dunham in infiltration in Muslim countries, would have perhaps noticed her.

REUNION (no. 140) - The team discovers the bizarre death of a Marine and his two friends may be linked to their past, but its Gibbs who ends up taking a trip down memory lane. When Gibbs is given the final word on Ziva's future with NCIS, he finds the decision harder to make than he ever expected.

INSIDE MAN (no. 141) - Gibbs and the team must take a second look into a death of a lieutenant after the blogger who accused them a cover-up dead.

GOOD COP, BAD COP (no. 142) -

When a Marine's body surfaces halfway around the world, the investigation sends the team in a startling direction and suspicion on one of their own. The investigation forces Ziva to dig up a buried chapter of her life.




CODE OF CONDUCT (no. 143)

- When a Marine known for his pratical jokes is found dead on Halloween eve, Gibbs and the team discover that the victim's "good-natured" pranks may have inspired ghoulish retribution. Meanwhile, Ziva tries to adjust to her new role on the team.

OUTLAWS AND INLAWS (no. 144) - When Gibbs' boat is found with two dead mercenaries on board, he is forced to look at an old friend in a new light. This murder investigation prompts Gibbs and the team to play family counselor to his former mentor, Mike Franks, in the hopes of preventing a bloody international conflict.

ENDGAME (no. 145) - The team must act fact when a North Korean assassin from Director Vance's past resurfaces in Washington D.C. to kill again. With the team's help, Vance faces his demons while uncovering a complex relationship with a killer that puts his whole family in danger.
POWER DOWN (no. 146) - When an attempted robbery leaves a Lieutenant dead and the entire city without power, the team must figure out what happened throught old fashion methods.

CHILD'S PLAY (no. 147)

- The team must put their Thanksgiving plans on hold when the horrific death of a Marine leads them to a government think tank that employs child prodigies. This dead Marine's day job at a government think tank leads Gibbs and the team into the life of a 12-year-old prodigy who may be the killer's next target.

FAITH (no. 148) - The NCIS team investigates a potential hate crime after the military-man son of an ex-Colonel who's become a minister turns up dead. In meantime, Gibbs tries to figure out what's behind his fater's recent change.
IGNITION (no. 149) - When a Navy pilot is found dead under strange circumstances, the team finds themselves battling a no-nonsense attorney with a hidden agenda.
FLESH AND BONE (no. 150) - Anthony DiNozzo Sr., father of Tony get involved with a case concerning an assassination plot against a prince. The elder DiNozzo's link will cause Gibbs to doubt whether Tony can remain impartial in the investigation.
JETLAG (no. 151) -

When the government's star witness in an embezzlement case is targeted by an assassin, it's up to the team to help her make it home alive. Tony and Ziva's assignment to escort a witness back from Paris encounters turbulence when they learn a hit man may be on their flight

home.

MASQUERADE (no. 152)

- The team finds themselves in a race against time when a terrorist group threatens to detonate a "dirty bomb" in the D.C. area.

JACK KNIFE (no. 153) - The team hits the highway to bust an illegal trucking operation and to take down a shady shipping compagny after one of their drivers is found dead, a Marine.


MOTHER'S DAY (no. 154)

- Secrets arise when Gibbs former mother-in-law surfaces as a witness in a murder investigation of a Navy Captain.

DOUBLE IDENTITY (no. 155) - Gibbs and the team investigate the shooting of a Marine and uncovers more to his life than anyone would have ever imagined.
JURISDICTION (no. 156) - Agencies collide when the team is forced to work with their Coast Guard counterparts to solve the murder of a Navy diver.
GUILTY PLEASURE (no. 157) - Gibbs ask Holly Snow to help them to investigate a murder in the world of professional call girls, what will cause troubles to the Team.
MOONLIGHTIING (no. 158) - When an NCIS polygraph specialist's night job takes a dangerous turn, Gibbs, Fornell and the team have to uncover the truth.
OBSESSION (no. 159) - DiNozzo finds himself increasingly captivated by a woman he's never met while investigating the murder of her brother.
BORDERLAND (no. 160) - The team is surprised when their investigation into a marine's murder unveils a surpriseing connection. The team tries to track down a serial killer, while Abby heads south of the border to give a speech with McGee in tow.
PATRIOT DOWN (no. 161) - When a colleague's murder sends shockwaves through the team, Gibbs soon uncovers a shocking link to the crime.
RULE FIFTY-ONE (no. 162) - Gibbs heads to Mexico for a showdown with a drug cartel intent on revenge. Gibbs has to reassess the rules by which he lives when he is forced to make a devastating choice to save the lives of his team.

Season 8 (24 episodes)
2010-2011

This season 8 will contain 24 episodes. Shooting begins on July 12, 2010.
Season premiere on air September 21, 2010.


SPIDER AND THE FLY (no. 163) - The premiere finds of Gibbs' team members as potential targets when their investigation of the murder of a helicopter pilot leads Gibbs back to the vengeful Paloma Reynosa, whose father Gibbs murdered.
WORST NIGTMARE (no. 164) - A young girl's kidnapping turns into much more when her grandfather complicates the investigation.
SHORT FUSE (no. 165) - When the motives behind an attack on a female bomb tech link her to a murder, the NCIS team investigates her very guarded personal life.

ROYALS AND LOYALS (no. 166) - When the body of an American officer is connected to a British Navy vessel, murder turns into an international incident.
DEAD AIR (no. 167) - When a controversial DJ and a Naval Officer are shot to death, the team uncovers a sinister plan.
CRACKED (no. 168) - Delving into the mind of a brilliant Naval Scientist, Abby becomes fixated on solving her murder, while DiNozzo's latest fling leads to an interesting Halloween.
BROKEN ARROW (no. 169) - DiNozzo's father returns, playing a vital role in a murder investigation that could have catastrophic results.
ENEMIES FOREIGN (no. 170) - The team is assigned to protect Ziva's father, when his attendance at a NCIS conference leads to some unexpected surprises, on part one of a two-part NCIS.
ENEMIES DOMESTIC (no. 171) - In the aftermath of a deadly attack, one team member flashes back to their first NCIS mission.
FALSE WITNESS (no. 172) - The NCIS team investigates the disappearance of a Navy petty officer who is the sole witness in an upcoming murder trial.
SHIPS IN THE NIGHT (no. 173) - Gibbs and the NCIS team partner with a Coast Guard Investigative Service (CGIS) Agent to solve the murder of a Marine gunned down on a dinner boat.
RECRUITED (no. 174) - A petty officer's recruitment session at a college fair comes to a fatal end, prompting the NCIS team, accompanied by Dr. Mallard's predecessor, to solve his murder.
FREEDOM (no. 175) - The NCIS team springs into action to find the assailant responsible for beating a Marine to death in his own backyard.
MAN WALKS INTO A BAR... (no. 176) - The NCIS team undergoes mandatory psych evaluations while investigating the death of a naval commander.
DEFIANCE (no. 177) - A botched assassination attempt in Belgravia forces NCIS to protect the Defense Minister's daughter, who is studying in the U.S. and smitten with McGee. Meanwhile, Gibbs investigates the death of the U.S. Marine who was killed in the bombing.
KILL SCREEN (no. 178) - The dismembered fingertips and teeth of a murdered Marine are discovered in the stolen purse of a pickpocketer, launching NCIS on a mission to find a cold-blooded killer.
ONE LAST SCORE (no. 179) - NCIS discovers that one of its former investigative assistants found brutally stabbed to death was selling details for how to rob a warehouse full of valuable possessions belonging to a woman convicted of fraud. Meanwhile, a new special agent joins the office.
OUT OF THE FRYING PAN (no. 180) - Gibbs questions Vance's motives when he is asked to interrogate a teenage boy accused of killing his retired Marine father.
TELL ALL (no. 181) - NCIS connects a message in blood left by a murdered Navy commander to a manuscript that may contain classified military information.
TWO FACED (no. 182) - To Gibbs' displeasure, Special Agent E.J. Barrett returns to lead the investigation of a seaman's death that may be connected to a series of port-related murders. Meanwhile, Ziva finally introduces her boyfriend, Ray, to the team.
DEAD REFLEXION (no. 183) - When a Pentagon security camera captures the murder of a Navy Lieutenant, NCIS sets out to track dow the killer caught on tape.
BALTIMORE (no. 184) - After Tony's ex-partner, Danny Price, appears to be the Port-to-Port Killer's latest victim, he revisits his days as a detective in Baltimore, including his first encounter with Gibbs.
SWAN SONG (no. 185) - NCIS is on high alert when someone with personal ties to the team becomes the latest victime in the Port-to-Port Case.
PYRAMID (no. 186) - The identity of the Port-To-Port killer is finally revealed, but he continues to target NCIS.