HARTS OF THE WEST



(Homepage:

)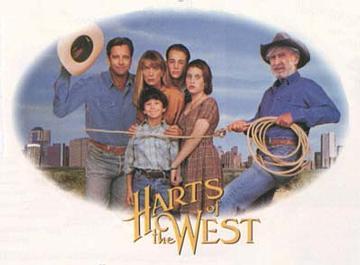 It's September 25, 1993 when CBS

broadcast the first episode of the show "HARTS OF THE WEST". This western comedy is for the format of one episode a week (on Saturday, of 9-10 pm), 44 minutes. It counts only 15 episodes (last broadcasting on June 18, 1994). Its executive producer was Robert Lieberman.
Sean holds it the role of a teenager, Zane Grey Hart, an elder son of the hero interpreted by Beau Bridges.
This role allowed Sean to obtain his second nomination to Young Artist Award (Best Youth Actor Leading Role in has Television Series), the first one having been for its role in the film Hocus Pocus.
This role is also its first professional meeting with Mark Harmon (Jethro Gibbs in "NCIS") who had a small character (named Sunset Mac Carver) during the episode 2.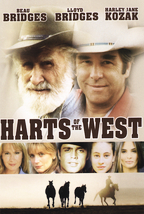 Synopsis :
City slicker Dave Hart is an underwear salesman who after a heart attack quits his dead-end job, uproots his family, and heads West in search of his inner hombre. Dave, his wife Alison, their teenage son Zane, teenage daughter L'Amour and 9 year old son, Duke, all move to Sholo, Nevada where they run into aging cowpoke Jake, who's not at all happy to share his land. This former city-dwelling family are very new to their ranch surroundings leading to hilarious incidents.

Episodes :
1. Pilote
2. The right stuff
3. Guess who's coming to Chow ?
4. Dead man's leap
5. Goodnight Irene
6. Cowboys in the hood
7. Auggie's end
8. Jack's brother
9. Ghost run
10. You got to have Hart
11. Home alone... with friends
12. Hart's vacation
13. Back in the panties again
14. Drive, he said
15. Jake and Duke's excellent adventure
'Harts of the West' is of those funny and not-annoying sitcoms which you can have a great time with. The plot is interesting! And surprisingly, this one didn't have the critics' notice!!! What do we have?A father who's in love with western movies, 3 siblings- two boys and a girl- always fighting, a cool-looking mum tired of her husband's western kind of life. If you find this interesting and would like to look for it on the Internet, don't lose your time! There's nothing about it. Not even a picture! And that's a pity...

To screencaps, click on the pic :