Vous aimez ce site ?
Dîtes-le et signez mon Livre d'Or.
Je vous en remercie par avance.
Et n'hésitez pas à parler de ce site autour de vous !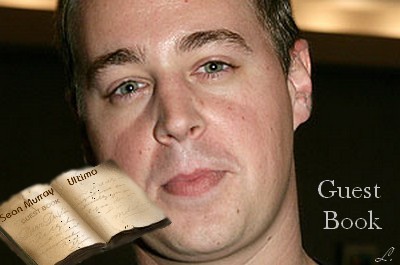 You like this site? Say it and sign my Guest Book.
Thank you.
And do not hesitate to speak about this site around you!
Les messages :

Le 13/11/14 par nathalie :
vraiment super ton site ,bien fais et le respect sur la vie privé cool,merci bonne continuation, bisous

Le 13/2/13 par LoveMcgee :
Super travail sur l'acteur. J'ai appris beaucoup de choses sur mon personnage de NCIS préféré. Merci !!!!

Le 10/12/12 par Le grand :
Super voter travail (NCIS)

Le 20/6/12 par McGeeNCIS :
Bonjour Lumen !
Je voulais te dire à quel point ton site est génial ! Moi qui suit une grande, que dis-je ! Une immense fan de Sean Murray, je trouve que ton site relate parfaitement toute sa vie et sa carrière. J'adore les photos et tout les articles <3 !
Continue à nous mettre au courant et de mettre à jour ! <3

Bisous !

Le 8/5/12 par ncisfun :
bonjour,
je suis une grande fan de ncis donc je veux bien admettre que mon avis peut etre partial.
Mais je vs le dis quand meme : j'aime bcp votre site. Tres simple et pourtant tres bien fourni.
bonne continuation.

Le 6/4/12 par Noëlle CANDIDO :
Les photos sont superbes... Etes-vous Française ou Américaine ??

Le 28/3/12 par Lisa M. CANDIDO :
J'adore votre site franchement, je n'aurais pas fait mieux. Je vous adore vous m'avez enfin renseigné sur ce que je voulais savoir!!!

Le 1/3/12 par Kenneth D. Johns :
I love this site! It has so much information on a much beloved character. Thank you for putting it up.

Le 30/1/12 par le bian :
je suis contente de ce que vous avez fait pour la famille de l'acteur Sean Murray ceci est confidentielle et vous avez beaucoup de respect envers eux. j'aime beaucoup votre site félicitation, je n'aurai pas fait mieux.
Merci

Le 8/10/11 par Oli641 :
Aurais-tu une photo sur le plateau du ncis d'un dossier top secret.

Merci!

Ton site est trop top!!!

Le 24/7/11 par Asceline :
Merci! The site is amazing and you are so dedicated! Thank you for putting it together!


Le 16/7/11 par Blue Venom :
really nice, amazing site. can't believe i found it hahaha. thanks, now i can enjoy getting to know more about my new idol, sean murray.

thanks.

but i cant seem to access season 7 part 1 photos. i think the links broken

Le 4/2/11 par Katari :
Great Job Lumen! J'espère que tu continuera à le mettre à jour pour notre plus grand plaisir =)

Et encore merci pour ce que tu nous fait découvrir =D

Katari

Le 16/12/10 par Leah Meza :
Hey, Lumen! I LOVE your site! keep up the great work my friend. Any word on pics from this season of NCIS? Thanks!

Le 7/11/10 par I♥NCIS :
Je suis une grande fan de NCIS et ce site est genial!

Le 25/9/10 par Fraise tagada :
Hey!! Site vraiment super!!J'adore!:)Tout est très bien écrit,de très belles photos,je suis une fan de ncis et les sites français ne sont pas nombreux,alors bravo & bonne continuation=);)<3

Le 1/8/10 par ZivaCrews :
Vraiment bien ton site, très complet !!! Il y a de belles photos et vidéos.

Le 19/6/10 par lolo :
Votre site est génial!!! J'adore Sean Murray mais les videos ne veulent plus fonctionner,J'ai 21 ans et depuis que j'ai decouvert Sean dans ncis je ne m'en lasse plus de le voir.lol

Le 5/6/10 par loulou11 :
J'adore ce site,tout comme la serie NCIS !!!
j'aime tout les personnages de Gibbs à ducky en passant par Tony!

Le 24/5/10 par valérie :
Bonjour,

je tiens à vous féliciter pour ce site consacré à Sean Murray,. Il comporte de très belles photos.
Cordialement
Valérie Dolat