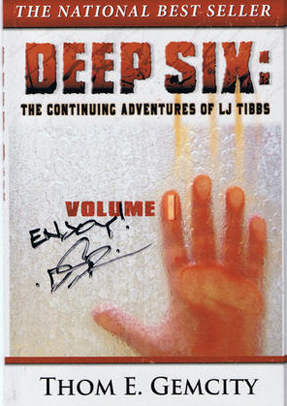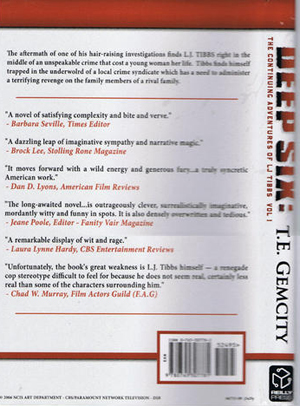 LE LIVRE DE TIM McGEE
DEEP SIX : The continuing adventures of L.J. Tibbs

(Page d'accueil :

)
Timothy McGee écrit un livre sous le pseudonyme "Thom E. Gemcity", anagramme de Timothy McGee.
On apprend l'existence de ce livre dès l'épisode "Dernières paroles d'un mort" ("Dead Man Talking" - 1x19) : McGee en parle à Tony avec qui il fait une planque.
Dans l'épisode "Cellule Rouge" ("Red Cell" - 2x20), on aperçoit le script pour la première fois alors que Tony et Kate sont venus chercher McGee chez lui pour partir sur une scène de crime (Tony trouve le script sur le bureau de McGee pendant que celui-ci se prépare). McGee lui dit que c'est personnel sans plus de détail.
On apprend la publication du livre dans l'épisode "Esprit de Famille" ("Twisted Sister" - 4x09). Sarah dévoile le secret de son frère Tim à Ziva et Tony qui n'apprécient pas du tout d'être les personnages principaux du roman de leur collègue.
L'intrigue du roman
Le roman se passe en 2006. LJ Tibbs est un rebelle par nature. Il est marqué par une tragédie d'enfance, dans le sud du quartier Specter. Un paria dans son propre monde, il boit pour alléger le fardeau de son complexe messianique (syndrome du messie). Le lendemain d'une de ses enquêtes harassantes, LJ Tibbs se retrouve en plein milieu d'un crime indescriptible qui coûte la vie à une jeune femme. Tibbs se retrouve lui-même pris au piège d'un syndicat du crime local, qui veut se venger d'une famille rivale. Mais la vengeance qu'ils cherchent est une arme à double tranchant, et le prix à payer est l'imprudence de Tibbs qui poursuit audacieusement sa proie, dans un climat terrifiant.
Les personnages du roman et leurs "modèles"

Le Chef L.J. Tibbs est Jethro Leroy Gibbs
L'Agent Spécial Tommy est Tony DiNozzo
L'Officier du Mossad Lisa est Ziva David
Pimmy Jalmer est Jimmy Palmer
La scientifique Amy Sutton est Abby Sciuto
L'agent McGregor est Timothy McGee
Les critiques littéraires au dos de la jaquette
"Un roman satisfaisant complexe et mordant."
Barbara Séville, Times Editor
"Une imagination éblouissante et sympathique avec de la magie narrative."
Brock Lee, Stolling Rone Magazine
"Il va de l'avant avec une énergie sauvage et une généreuse fureur … un véritable travail sur la culture américaine."
Dan D. Lyons, critique American Film
"La nouvelle tant attendue est… outrageusement intelligente, imaginative avec un enchaînement surréaliste, drôle et pleine d'esprit par endroits. C'est aussi fortement réécrit et fastidieux."
Jeane Poole, Rédacteur - Fanity Vair Magazine
"Une remarquable exposition d'humour et de rage."
Laura Lynne Hardy, Critique CBS Entertainment
"Malheureusement, la grande faiblesse du livre LJ Tibbs est lui-même - un flic renégat stéréotypé difficile à ressentir parce qu'il ne semble pas réel, certainement moins vrai que quelques-uns des personnages qui l'entoure."
Tchad W. Murray, Film Actors Guild (FAG)