TEXTE DE L'INTERVIEW DE SEAN dans "Sunday Mail TV GUIDE"
MARS 2007
(photos + texte)

(Page d'accueil :

)

TEXT SEAN'S INTERVIEW in
"Sunday Mail TV GUIDE"
MARCH 07
(photos and text)

(Homepage:

)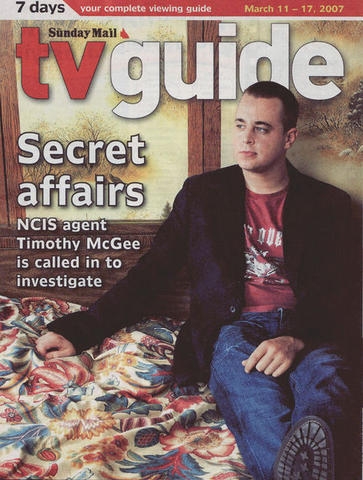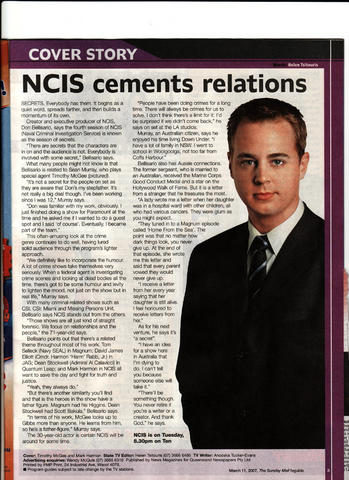 Texte de l'interview en français :
NCIS relations "en ciment"

Des secrets. Tout le monde en a. Ca commence par un petit mot, qui va plus loin, et qui va lui même de son petit chemin.
Le créateur et producteur éxécutif de NCIS, Don Bellisario, dis que la quatrième saison de NCIS (Service d'Investigation Criminelle Naval) est la saison des secrets.
"Il y a des secrets dont les personnages sont conscients mais pas le public. Chacun est impliqué dans une histoire", indique Bellisario.
Ce que beaucoup de personnes ne savent pas est que Bellisario est apparenté à Sean Murray, qui joue l'agent spécial Timothy McGee.
"Ce n'est pas un secret pour les gens sur le plateau car ils savent que Don est mon beau-père. Ce n'est pas non plus quelque chose de pénible. Je travaille depuis que j'ai 12 ans", dit Sean Murray.
"Don connaissait mon travail, évidemment. Je venais juste de finir un show pour Paramount à l'époque et il m'a demandé si je voulais jouer un rôle d'invité et j'ai répondu "bien sûr". Finalement, je suis devenu un membre de la team."
Ce regard quelques fois amusant sur un crime continue à marcher, ayant séduit un grand public grâce à l'approche éclaireuse du programme.
"Nous adorons incorporer de l'humour. Un bon nombre de shows policiers se prennent trop au sérieux. Quand un agent fédéral enquête sur des scènes de crimes et regarde des cadavres tout le temps, il doit y avoir un peu d'humour et de légèreté pour détendre l'atmosphère, pas seulement dans la série, mais aussi dans la vraie vie", dit Sean Murray.
Avec beaucoup de shows liés au crime comme les Experts, les Experts : Miami et Missing : disparus sans laisser de traces, Bellisario dit que NCIS est celle qui sort du lot par rapport aux autres.
"Ces shows ne sont tous qu'à propos de médecine légale stricte. Nous nous centrons sur les relations et sur les gens", ajoute le septagénaire.
Bellisario indique qu'il y a un thème commun à travers tout son travail. Tom Selleck (Navy SEAL) dans Magnum; David James Elliott (Cmdt Harmon 'Harm' Rabb Jr) dans JAG; Dean Stockwell (Amiral Al Calavicci) dans Code Quantum; et Mark Harmon dans NCIS veulent tous sauver leur journée et combattre pour la vérité et la justice.
"Oui, ils le font toujours".
"Mais il y a une autre similitude que vous trouverez et c'est que les héros dans la série ont une figure paternelle. Magnum avait son Higgins, Dean Stockwell avait Scott Bakula", dit Bellisario.
"Tout au long de son travail, McGee surveille Gibbs plus que personne. Il apprend de lui, donc il est un représentant paternel", indique Sean Murray.
L'acteur de 30 ans est certain que NCIS sera là encore pour quelques temps.
"Les gens font des crimes depuis toujours. Il y aura toujours des crimes que nous devrons résoudre. Je ne pense pas qu'il y ait une limite. Je serai surpris si nous ne revenions pas", dit-il sur le plateau du studio de Los Angeles (LA).
Sean Murray, citoyen Australien, dit qu'il appréciait sa vie en Australie. "J'ai beaucoup de famille en Nouvelle Galles du Sud (New South Wales). J'ai été à l'école à Woolgoolga, pas très loin de Coffs Harbour."
Bellisario a aussi des connections avec des Australiens de la classe ouvrière (Aussie). L'ancien sergent, qui était marié à une Australienne, a reçu la Médaille de Bonne Conduite des Corps de la Marine, et une étoile sur le Parterre des Célébrités d'Hollywood. Mais c'est une lettre venant d'une étrangère qu'il chérit le plus.
"Une dame m'a écrit une lettre quand sa fille était dans une salle d'hôpital avec d'autres enfants, tous avec divers cancers. Ils étaient tristes comme vous pouvez l'imaginer.
"Ils se sont mis devant un épisode de Magnum appelé 'Home from the Sea'. La morale était qu'importe combien sombres sont les choses, il ne faut jamais abandonner. A la fin de l'épisode, elle m'a écrit la lettre et m'a dit que chaque parent avait fait le voeu de ne jamais abandonner.
"Je reçois une lettre venant d'elle chaque année me disant que sa fille est encore en vie. Je me sens honoré de recevoir des lettres d'elle."
Et pour son prochain projet, il dit que c'est "un secret".
"J'ai une idée pour une série ici en Australie que je meurs d'envie de faire. Je ne peux vous en parler, sinon quelqu'un d'autre va reprendre l'idée."
"Il y aura toujours quelque chose. On ne prend jamais sa retraite si on est écrivain ou créateur. Et Dieu merci", dit il.
English text :
NCIS cements relations

Secrets. Everybody has them. It begins as a quiet word, spreads farther, and then builds a momentum of its own.
Creator and executive producer of NCIS, Don Bellisario, says the fourth season of NCIS (Naval Criminal Investigation Service) is known as the season of secrets.
"There are secrets that the characters are in on and the audience is not. Everybody is involved in some secret," Bellisario says.
What many people might not know is that Bellisario is related to Sean Murray, who plays special agent Timothy McGee.
"It's not a secret for the people on set as they are aware that Don's my stepfather. It's not really a big deal though. I've been working since I was 12," Sean Murray says.
"Don was familiar with my work, obviously. I just finished doing a show for Paramount at the time and he asked me if I wanted to do a guest spot and I said 'of course'. Eventually, I became part of the team."
This often-amusing look at the crime genre continues to do well, having lured solid audience through the program's lighter approach.
"We definitely like to incorporate the humour. A lot of crime shows take themselves very seriously. When a federal agent is investigating crime scenes and looking at dead bodies all the time, there's got to be some humour and levity to lighten the mood, not just on the show but in real life," Sean Murray says.
With many crime-related shows such as CSI, CSI: Miami and Missing
ersons Unit, Bellisario says NCIS stands out from the others.
"Those shows are all just kind of straight forensic. We focus on relationships and the people," the 71-year-old says.
Bellisario points out that there's a related theme throughout most of
is work. Tom Selleck (Navy SEAL) in Magnum; David James Elliott (Cmdr. Harmon 'Harm' Rabb Jr.) in JAG; Dean Stockwell (Admiral Al Calavicci) in Quantum Leap; and Mark Harmon in NCIS all want to save the day and fight for truth and justice.
"Yeah, they always do."
"But there's another similarity you'll find and that is the heroes in the show have a father figure. Magnum had his Higgins, Dean Stockwell had Scott Bakula," Bellisario says.
"In terms of his work, McGee looks up to Gibbs more than anyone. He learns from him, so he's a father-figure," Sean Murray says.
The 30-year-old actor is certain NCIS will be around for some time. "People have been doing crimes for a long time. There will always be crimes for us to solve. I don't think there's a limit for it. I'd be surprised if we didn't come back," he says on set at the LA studio.
Sean Murray, an Australian citizen, says he enjoyed his time living Down
nder. "I have a lot of family in NSW. I went to school in Woolgoolga, not too far from Coffs Harbour."
Bellisario also has Aussie connections. The former sergeant, who is married to an Australian, received the Marine Corps Good Conduct Medal and a star on the Hollywood Walk of Fame. But it is a letter from a stranger that he treasures the most.
"A lady wrote me a letter when her daughter was in a hospital ward with other children, all who had various cancers. They were glum as you might expect.
"They tuned in to a Magnum episode called 'Home From the Sea'. The point was that no matter how dark things look, you never give up. At the end of that episode, she wrote me this letter and said that every parent vowed they would never give up.
"I receive a letter from her every year saying that her daughter is still alive. I feel honoured to receive letters from her."
As for his next venture, he says it's "a secret".
"I have an idea for a show here in Australia that I'm dying to do. I can't tell you because someone else will take it."
"There'll be something though. You never retire if you're a writer or a creator. And thank God," he says.