THE RANDOM YEARS

(Homepage:

)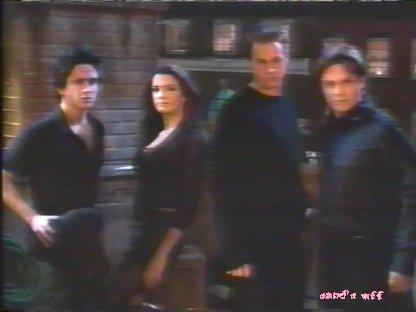 "The Random Years" is a comedy on the post-university life of four young people, 30 minutes by episode, created in 2002, and diffused on UPN

every Tuesday evening at 9:30 pm. In spite of a promising casting around Sean, including Will Friedle of "Boy meets World", the former member of the "Mickey Mouse le Club Josh Ackerman", and Natalie Cigluti of "Saved by the Gong: the New Class", the series was regrettably stoped after only seven episodes. Only 4 episodes were diffused between March 5, 2002 and March 19, 2002.
Sean holds it Todd Mitchell's role. It was the regular leading part which Sean obtained on a series of Network, after "Harts of the West" in 1993.
This series is the story of life-long best friends Todd, Alex and Wiseman share a New York apartment together, trying to figure out what to do with their post-college lives...then they meet their new neighbor Casey. They find themselves in New York City trying to negotiate the daunting realities of post-collegiate life –semi-mature relationships, steady employment and coming up with the rent, etc.


Despite their seemingly similar situations, the members of this foursome take dramatically different approaches to life:
- Alex (played by Will Friedle, "Boy Meets World", "Go Fish"), an aspiring music critic who works as a researcher for a New York-based magazine, is responsible, dependable and sweet, though he yearns for the hip, edgy existence that always seems to elude nice guys.
- Todd (played by Sean Murray, "Jag", "Ncis") has no such problem: he's the unmotivated guy who tries the least and gets the most. He has no plans—career or otherwise—and seems totally content, much to the bafflement (and envy) of his friends.
- Wiseman (played by Joshua Ackerman) is a dental technician who has never had to make a decision because his mother has made them all for him—including his selection of careers. Now, independent at last, he finds himself making some rather unusual personal choices.
- Casey (played by Natalia Cigliuti, "Pacific Palisades", "Saved by the gong : the new class") is a smart and mature NYU business school student, who as a recent transplant, is finding life in New York a little tougher than she had expected.

Together they form an oddball kind of family, managing to negotiate the awkwardness of romantic breaks-ups, the frustrations of long-distance dating, the daunting search for the perfect New York apartment (or even a habitable one) and generally find a way to make a living while still having a life.
Episodes:
1. Pilot
2. Don't make me have sex in the Hamptons
3. Men behaving Sadly
4. Dangerous liaisons
5. Inherit the windbreaker
6. Losin'it
7. Corrupting Jacob
Although only seven episodes were shot, we have several photos of Sean extracted from this series.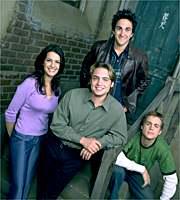 Official photo