THE RANDOM YEARS (vf)
THE RANDOM YEARS (vo)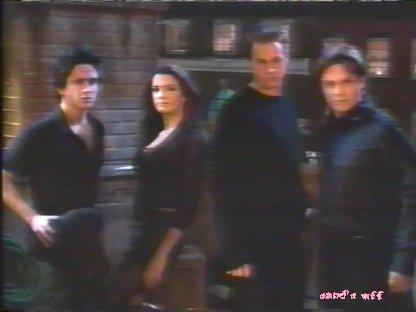 "The Random Years" (Les années incertaines/aléatoires) est une comédie sur la vie post-universitaire de quatre jeunes gens, de 30 minutes par épisode, créée en 2002, et diffusée sur la chaîne UPN

tous les mardis soirs à 21 h 30. Malgré un casting prometteur autour de Sean, incluant Will Friedle de "Boy meets World," l'ancien membre du "Mickey Mouse le Club" Josh Ackerman, et Natalie Cigluti de "Sauvé par le Gong : la Nouvelle Classe" , la série fut malheureusement arrêtée après seulement sept épisodes. Seuls les quatre premiers épisodes ont été diffusés entre le 5 mars 2002 et le 19 mars 2002. Il n'existe pas de version française de cette série.
Sean y tient le rôle de Todd Mitchell. C'était le premier rôle régulier que Sean obtenait sur une série de Network, après "Harts of the West" en 1993.
Cette série raconte l'histoire d'amis de longue date, Todd, Alex et Wiseman, qui ont décidé de prendre ensemble un appartement à New York. Ils essayent de faire face à ce que sont leurs vies après l'université. Leur quotidien New-Yorkais se partage entre des relations pas toujours sérieuses, réussir à trouver un emploi stable, réussir à faire face à l'échéance du loyer, etc...
Malgré des situations apparemment semblables, les membres de ce groupe ont des approches radicalement différentes de la vie :
- Alex (interprété par Will Friedle, "Boy meets world", "Go Fish") est un critique de musique débutant qui travaille comme chercheur pour un nouveau magazine. Il est responsable, sûr et doux.
- Todd (interprété par Sean Murray, "Jag", "Ncis") n'a aucun problème : il est le gars sans motivation particulière, qui essaye toujours d'en faire le moins et obtient le maximum. Il n'a aucun plan de carrière et semble ravi de cette situation, faisant naître beaucoup de perplexité (et d'envie) de la part de ses amis.
- Wiseman (interprété par Joshua Ackerman) est un technicien dentaire qui n'a jamais dû prendre une décision parce que sa mère les a toutes prises pour lui, y compris le choix de sa carrière. Maintenant, enfin indépendant, il fait quelques choix personnels plutôt inhabituels.
- Casey (interprété par Natalia Cigliuti, "Pacific Palisades", "Sauvé par le gong : la nouvelle classe") est une étudiante de l'école de commerce NYU (New York University). Intelligente et mûre, elle trouve la vie à New York un peu plus dure que ce à quoi elle s'était attendue.
Ensemble ils forment une sorte de famille farfelue, gérant comme ils le peuvent des rendez-vous romantiques, des frustrations suite à des rencontres qui s'avèrent ne pas être sérieuses, la recherche de l'appartement parfait à New York (ou même seulement habitable) et trouvent toujours un moyen de gagner leur vie tout en essayant d'avoir une vie.

Liste des épisodes :
1. Pilot
2. Don't make me have sex in the Hamptons
3. Men behaving Sadly
4. Dangerous liaisons
5. Inherit the windbreaker
6. Losin'it
7. Corrupting Jacob
Bien que seulement sept épisodes ont été tournés, nous avons plusieurs photos de Sean extraites de cette mini-mini-série.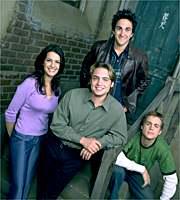 Photo promotionnelle