HARTS OF THE WEST(vo)

HARTS OF THE WEST(vf)

(Page d'accueil :

)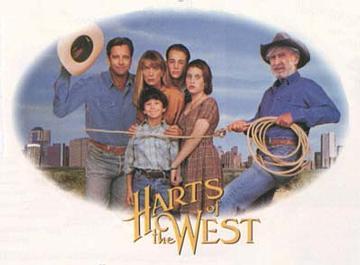 C'est le 25 septembre 1993 que la chaîne CBS

diffuse l'épisode pilote de la série "HARTS OF THE WEST". Cette comédie western est au format d'un épisode par semaine (samedi, de 21 h à 22 h) , d'une durée de 44 minutes. Elle ne compte que 15 épisodes (dernière diffusion le 18 juin 1994). Son producteur exécutif était Robert Lieberman. Elle est inédite en France.
Sean y tient le rôle d'un adolescent, Zane Grey Hart, fils aîné du héros interprété par Beau Bridges.
Ce rôle permis à Sean d'obtenir sa seconde nomination aux Young Artist Award (Best Youth Actor Leading Role in a Television Series) comme meilleur jeune acteur dans une série télévisée (la première ayant été pour son rôle dans le film Hocus Pocus).
Ce rôle est également sa première rencontre professionnelle avec Mark Harmon (Jethro Gibbs dans "NCIS") qui y tena un petit rôle (celui de Sunset Mac Carver) au cours du deuxième épisode.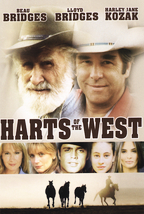 Synopsis : Dave Hart, "un vendeur de sous-vêtements de 41 ans avec un mauvais coeur," comme sa femme Alison le décrit si hostilement, décide de quitter son travail sans débouché après une crise cardiaque, et son existence urbaine, au profit d'une vie dans un ranch du Nevada. Il déracine toute sa famille (sa femme et ses trois enfants). Tous se retrouvent à Sholo (Nevada) où ils se heurtent au cow-boy vieillissant Jake, qui n'est pas du tout heureux de partager sa terre.

Liste des épisodes :
1. Pilote
2. The right stuff
3. Guess who's coming to Chow ?
4. Dead man's leap
5. Goodnight Irene
6. Cowboys in the hood
7. Auggie's end
8. Jack's brother
9. Ghost run
10. You got to have Hart
11. Home alone... with friends
12. Hart's vacation
13. Back in the panties again
14. Drive, he said
15. Jake and Duke's excellent adventure

"Harts of the West" est une de ces comédies de situation drôles et pas ennuyantes, avec lesquelles vous pouvez passer un grand moment. Etonnamment, celle-ci n'a pas enthousiasmé les critiques. Qu'avons-nous ? Un père amoureux de films occidentaux, 3 enfants (deux garçons et une fille), et une maman lassée de la vie de western de son mari.
Ne cherchez pas sur internet des informations sur cette série, il n'y a rien, même pas une photo extraite de la série ! Et cela est bien dommage.
Je vous propose des screencaps (cliquer sur l'image) :