BACKFIELD IN MOTION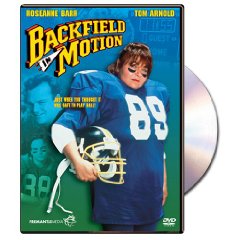 Although this TV movie is not the first job paid by Sean as actor (he was 12 to his first contract as actor), he is always the first one referenced in his filmography.
This TV movie, realized in 1991 by Richard Michaels, according to a story of Gene O' Neill and Noreen Tobin, was diffused in the United States on November 13, 1991. The producers are Bill Borden, Jordan Kerner and Barry Rosenbush.
Sean is Joe Jr, teenage son of Nancy (played by Roseanne Arnold).

Synopsis:
When Nancy and her teenage son Joe Jr (played by Sean) move to Deerview, the small, old-fashioned community will never be the same. Nancy soon realizes she is the only woman in town who would rather crack a joke than an egg. But the town gets their biggest laugh when Nancy organizes a mother-son football game with the unathletic housewives.
Memorable quotes:
Women of Deerville: Welcome to Deerville!
Nancy : Wow. And all this came from a can of tuna?

Boy: Your mom's weird.
Joe (played by Sean): And yours isn't?

Woman: You are dead fish!
Boy: Meat, mom.
Woman: Meat, fish, I don't care what it is!
Laurie : Do you think I'm going to be inspired by a quote from the Pillsbury Doughboy?
Cast:
Roseanne Arnold as Nancy Seavers
Tom Arnold as Howard Peterman
Sean Murray as Joe Jr
Colleen Camp as Laurie
Conchata Ferrell as Ann Bedowshi
Caroline Mignini as Sheila
Johnny Galecki as Tim Seavers
Kevin Scannell as Joe Dooley Sr
Olivia Burnette as Betsy Dooley
Mike Pniewski as Jimmy Cox
Loyda Ramos as Sally
Jayne Modean as Faith
Brandon Crane as Andy
Robert Noble as Harry
Scott Ferguson as Boz
Teresa Ganzel as Joanne
Jessie Jones as Ms. Marsh
Danny Gonzalez as Derek
Patrick LaBrecque as Freddie
Scott Wilkinson as Ray
Alexander Folk as Mr Brooks
Jeannette Kerner as Lady#1
Dorothy Davis as Lady#2
Christopher Burton as Boy#1
Jack McLaine as Boy#2
Only 4 photos of Sean extracted from this tv movie