SILK STALKINGS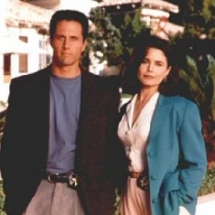 "Silk Stalkings" is a success series created in 1991 by the famous creator and producer Stephen J. Cannel (the man with the typewriter), creator, among others, "Riptide" (1984), "21 JumpStreet" (1987).

This series has 8 seasons and 176 episodes of 48 minutes. It was stoped in 1998. Its executives producers were Stu Segall et David E. Peckinpah.
It's a police series : the High Society of Palm Beach is the place of crimes and offences in any kinds which the brigade of police has to resolve.
The first broadcasting in United States was on November 7, 1991 on CBS

.

Sean is Derek Patson, little brother of the main suspect, in the episode of the season 5 entitled "Sweet Punishment" (3x05).
In this episode, Sean is a fair-haired little boy!
Synopsis: The procurer Victor Stone was murdered. His diary leads Chris and Rita to the restaurant owner Louis Simone. Usual customer of the deceased, Louis Simone suggests to them to find Maddie Pastor, one of the girls who worked for Victor.



To screencaps, click on the pic:



To video extracts, click on the pic: